Overview
The ID4M Series are high sensitivity cameras with 4 Mega pixel 11 micron pixel pitch sCMOS sensor. They are ideally high sensitive cameras for a dedicated image processing that requires a sensitivity to ultra violet spectra.
The Gpixel's GSENSE400BSI ,a backside illumination type of sCMOS image sensor, implements high sensitivity, low noise, and high dynamic range, and is manufactured by Tower-Jazz. It achieves more excellent quantum efficiency(QE) than any other sensors and generates very low read noise.
A user can choose the most suitable sensor for their purpose among the three sensors; BSI-VIS with the 300 ‒ 400nm spectral range optimized, BSI-UV with the 270-300nm range , and BSI-UV with the 230-250nm sensitivity and the excellent 95% Quantum Efficiency (QE) at the visible range.
Application
Semiconductor/Electric materials/Film/Plastic/Printing/Metals/Gas ,etc
Applicable Purposes
Outlook Inspections and Sensory Inspections using UV absorption or high-sensitivity characteristics
| | |
| --- | --- |
| | |
| ID4MTVISB-CL | UV Lens (UV8040BK 78mm F3.8) |
Fundamental Specification
Model Number
ID4MTVISB-CL
ID4MUVG2-CL
Output Interface
Camera Link or PoCL Medium(4TAP) / Base(2TAP)
Image Sensor
Gpixel GSENSE 400BSI (Rolling Shutter)
Gpixel GSENSE 2020BSI (Global Reset)
Sensor Model Number
GSENSE400BSI-TVISB
GSENSE2020BSI
Image Circle / Pixel Size
Φ31.859mm size / Pixel size 11μm x 11μm
Φ18.826mm size / Pixel size 6.5μm x 6.5μm
Image Output
Effective pixel 2,048(H) x 2,048(V)
Pixel Clock
60MHz
52MHz
Output Format
STD mode:Mono 8bit / 10bit / 12bit HDR mode(High/Low) : Mono 8bit / 10bit / 12bit of each
Mono 8bit / 10bit / 12bit
Frame Rate
Base 2Tap : 27.1fps
Base 2Tap : 22.7fps
Medium 4Tap : 54.2fps
Medium 4Tap : 45.3fps
Gain
0~+24db
Shutter Speed
off~1/32,000s
off~1/130,000s
Partial Scan
ROI : 1 area
Trigger Mode
Fixed shutter trigger mode, plus width shutter trigger mode
Lens Mount
M42 Mount P=1mm (C Mount, F Mount Conversion)
External Trigger Inputs
Hirose 12pin or Camera Link
Power Voltage
DC12V±10% / max 3.6W
DC12V±10% / max 4.5W
Size(excluding projections)
H : 70mm W : 70mm D : 44mm
H : 55mm W : 55mm D : 45mm
Weight
280g approx.
185g approx.
GSENSE400BSI Spectral Response
※Excludes lens and light source characteristics.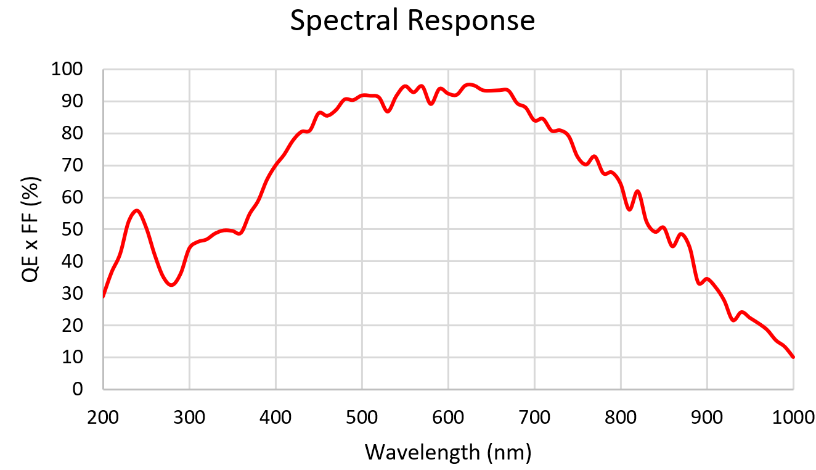 GSENSE2020BSI Spectral Response
※Excludes lens and light source characteristics.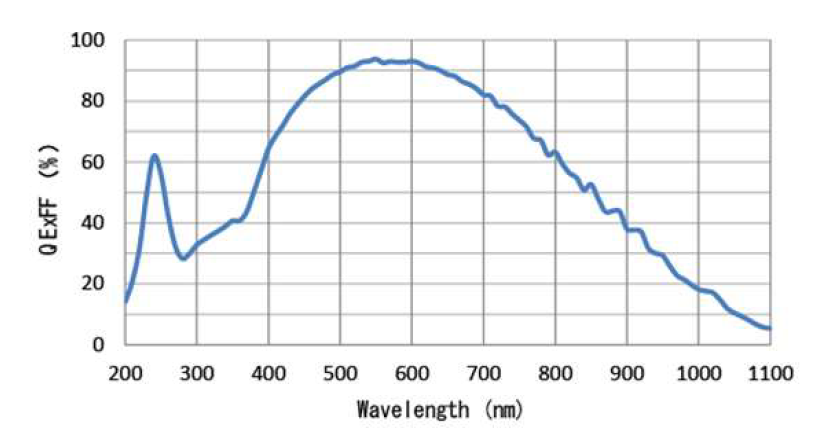 Download (Technical Manual)
●ID4MTVISB-CL


ID4MTVISB-CL_E_20200715.pdf(PDF:1,275kb)
●ID4MUVG2-CL


ID4MUVG2-CL_E_20210302.pdf(PDF:1,213kb)